Analytical Lab Services Q&A
What is the best way to preserve and transport polished samples?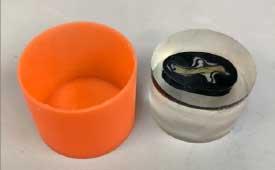 We get this question a lot from our customers. One easy way to protect your polished samples is to use a disposable mounting cup that is flexible and will slip over your sample mount.
How do you mount a thin, flexible, delicate or soft sample to get best performance during mechanical polishing?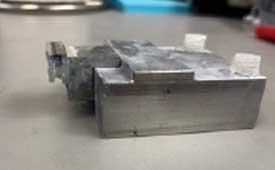 One question we often get in the lab is how to mount thin or flexible samples, in order to grind and polish them without damage. This applies in particular to samples that are sensitive to higher temperatures.
A solution we use often is to sandwich the sample between two microscope slides of two pieces of a silicon wafer to give the part stability and to provide something to hold on to while processing.
We also recommend using a low exothermic temperature epoxy if your samples are temperature sensitive.
Once sandwiched, the sample can be ground/polished via an automated system by mounting in a standard round puck or by attaching it to a holding jig for manual work without having to install in a mount.
The image shown here is a manual mounting system that we use for very delicate samples before we automate a process. You can see the sandwich on the left side of the mount in the image. It has been glued to a removable holder.
How do you mount an irregularly shaped object to a saw for sectioning?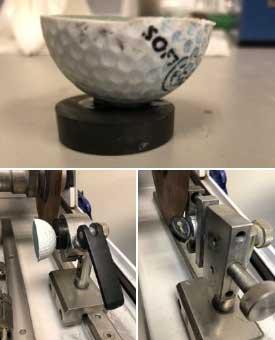 Although Buehler, our saw manufacturer, has many options for chucks to hold samples when cutting, some samples simply do not fit.
In these cases, we get creative with ways to mount samples in order to section them properly.
The best method we have found is to attach the sample to a backing that conforms to your available chucks. In these images shown, we used a blank round mount and a small aluminum rod that we sectioned to use for this purpose.
We use Buehler Crystalbond as the adhesive as it melts at low temperature and can be completely removed by reheating and cleaning with a bit of alcohol or acetone. If you don't intend to reuse the backing you can use cyanoacrylate or another epoxy.
What final polishing compound should I use for the best sample preparation results?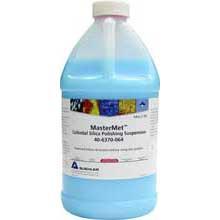 The short answer: it's complicated.
The choice of final polishing compound depends on the final desired result and the materials or material combination we are polishing.
Like other grinding and polishing steps, the ultimate goal of final polishes is to remove surface deformation in order to show the desired details.
Click the link below to read our full application note about the types of final polishing compounds and their uses.
Have a question not answered here? Complete the form on this page; we are happy to answer your questions about analytical lab applications.
Have a question about analytical lab applications? Ask it here!