JH Labs provides analytical laboratory services, including sample preparation and analysis, cross sections, metallurgical analysis, SEM/EDS, x-ray, process improvement services and more.
Please submit the form on this page to learn more about how JH Labs can support your laboratory analytical programs.
JH Analytical Lab Services Now Available
You asked for it—and JH Analytical Labs is now open!
Our new analytical services are designed to:
Teach you about your sample process, imaging, analysis and more
Prepare you to do your own lab services, sample preparation and analysis
Provide complete process solutions until you are ready to equip and manage your own lab
Strict Safety Protocols
We have opened our lab with strict COVID-19 protocols in place to keep you safe while we run your samples.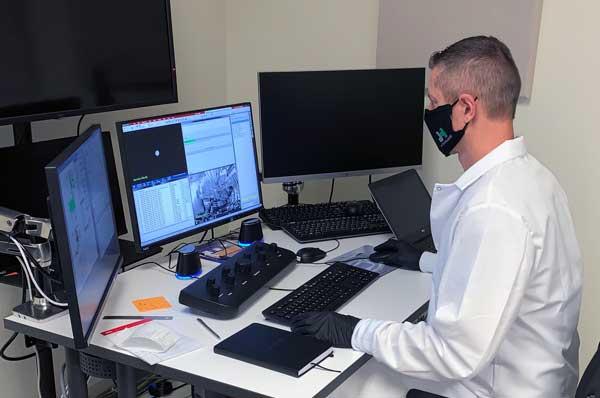 Lab Services Available
Failure Analysis
Metallurgical Analysis
Hardness Testing
Grain Analysis
Cleanliness Analysis
Sample Preparation

Geology
Mineralogy
Seminconductor
Medical Devices
Cross Sections
Unique samples (just ask)

Dye and Pry
EDS (Elemental Analysis)
2D & 3D X-ray
Optical Analysis
Large Area Ion Milling
UEFA Analysis
Live SEM & Optical Imaging via Video Conferencing
Process Improvement
Industries
Medical Devices
Semiconductor
Metallography
PCB and electronics
Geology
Minerology
Automotive
Heat Treat
Forensics Aerospace & Aviation
JH Analytical Lab Equipment
Advanced Imaging

Thermofisher SEM (Apreo S) Latest generation advanced imaging
Dual Beam

Oxford EDS
Leica Ion Mill (Model TIC 3X)
Leica Microcut and Polish (Model TXP)
Buehler Precision Saw
Buehler Polisher
Buehler Vibratory Polisher
Leica Coater (ACE600)
X-ray (CT)
Buehler Hardness Tester
Leica Research Grade Microscope
OUR PROMISE
We will deliver quality sample preparation and analysis services, exceeding market turnaround times at a competitive price. The combination of these three factors provides you with the best value in the sample preparation marketplace.
We will partner with you and our suppliers to ensure the best end user experience from project definition to order placement to final delivery. We will focus on our core markets and service all customers equally regardless of size.
Please submit the form to learn more about how JH Labs can support your laboratory analytical programs.
For more information please fill in your information below:
NEW! Lab services for your medical device, semiconductor, metallography applications and more.
Equipped with all of the latest lab equipment.