NEW LEICA PRODUCTS
IVESTA 3 STEREO MICROSCOPES
Ivesta 3 Greenough Stereo Microscopes
For manufacturers or suppliers, increasing efficiency for inspection is a priority. You can optimize your visual inspection and rework while achieving reliable, consistent results.
Boost your efficiency
See the relevant details faster during inspection thanks to an optimal 3D perception which requires less adjusting of the microscope. You can also handle the sample under the microscope objective with ease due to a large working distance.
Results you can rely on
You can ensure consistent visual inspection according to standard procedures and thus reduce the risk of human errors. Users can document results efficiently and reliably and view them with others in a straightforward way.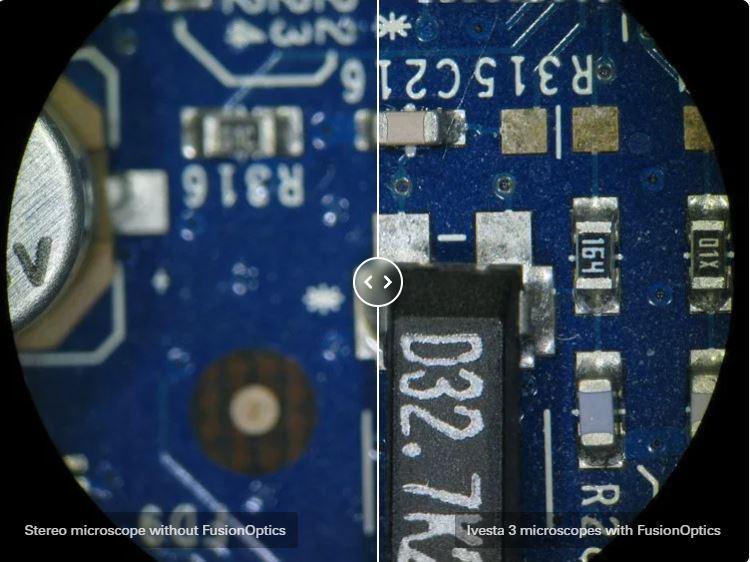 See relevant details faster
In contrast to conventional stereo microscopes, Ivesta 3 features FusionOptics technology that unites high resolution and a large depth of field – at the same time!
Save time refocusing as you can see every important detail at a glance. FusionOptics allows you to perceive your samples in 3D with up to 3x larger depth of field.
Change from sample overview to detail easily with the microscope's large 9:1 zoom range.
Reveal fine details with a magnification of up to 55x and apochromatically corrected optics.
Image simulation, showing a printed circuit board sample without and with the FusionOptics effect, perceived when looking through the eyepieces.
Contact Us and Learn More About Ivesta 3 Greenough Stereo Microscopes

Ivesta 3 (Integrated camera)
With integrated camera: For digital image sharing directly on different devices, e.g., a monitor, mobile device, or computer.
Ivesta 3 (C-mount)
With C-mount: Gives you the flexibility to add a camera if needed and thus turn it into a digital microscope solution.