The updated version of the Leica EM TIC 3X is based on our motto 'with the user for the user' in combining performance and flexibility in a practically relevant way.
We can further enhance the doubled milling rate of the latest EM TIC 3X with the option of five different stages adapted to your application requirements.
Reproducible results
The Triple Ion Beam Milling System, Leica EM TIC 3X allows the production of cross-sections and planed surfaces for Scanning Electron Microscopy (SEM), Microstructure Analysis (EDS, WDS, Auger, EBSD) and, AFM investigations.
With the Leica EM TIC 3X, you achieve high-quality surfaces of almost any material at room temperature or cryo, revealing the internal structures of the sample in a near-native state as possible.
Efficiency
What really counts regarding the efficiency of an ion beam miller is excellent quality results with high throughput. It's not enough that we could increase the milling rate by a factor of 2 compared to the previous version but the unique triple ion beam system optimizes the preparation quality and reduces working time.
Up to three samples can be processed in one session. One stage can perform cross-sectioning and polishing.
Workflow solutions provide a safe and efficient transfer of samples to subsequent preparation instruments or analysis systems.
Flexible system – Adaptable to your needs
The flexible choice of stages makes the Leica EM TIC 3X a perfect instrument not only for high throughput but also for contract laboratories. Depending on your needs it can configure the Leica EM TIC 3X individually using interchangeable stages:
Standard Stage
Multiple sample stage
Rotary stage
Cooling stage or
Vacuum Cryo Transfer Docking Station
for applications of standard preparation, high throughput processing, as well as preparing extremely heat-sensitive samples such as polymers, rubbers, or biological materials at low temperatures.
Environmentally controlled Workflow Solution
The VCT docking port in combination with the Leica EM TIC 3X offers the perfect workflow for surfacing environmentally sensitive and/or cryogenic samples which can be
Biological
Geological or
Industrial Material
It can subsequently transfer them to our coating systems Leica EMACE600 or Leica EM ACE900 and/or SEM systems under inert gas/vacuum/cryo conditions.
Standard Workflow Solution - Create synergies with the Leica EM TXP
Prior to the use of the Leica EM TIC 3X, mechanical preparation is often required to get as close as possible to the area of interest. The Leica EM TXP is a unique target surfacing system developed for cutting and polishing samples prior to follow-on techniques with instruments such as the Leica EM TIC 3X.
It especially designed the Leica EM TXP to pre-prepare samples by sawing, milling, grinding and polishing. It excels with challenging specimens where pinpointing and preparing difficult targets becomes easy.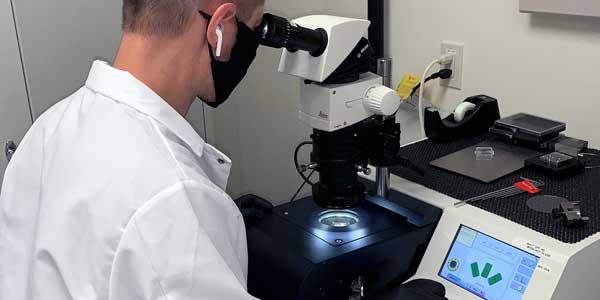 Complete the form below for additional information