Cañada College STEM Job Shadowing
We recently held a job shadow day at our Fremont office supporting Cañada College, located in Redwood City, CA. Two Cañada students spent two days shadowing our applications and technical sales staff. They had an amazing experience!
Here are some of the remarks from the students who participated:
"I am so grateful for all this program has provided. I have never felt more motivated and excited to push for internships or just talk to people."
"I had an amazing experience. I learned so much and I know this is all needed out there in the outside world, so this was really important for me and will be very much appreciated every single day!"
"I enjoyed and thought this experience was beneficial. This experience allowed me to gain confidence to pursue my career."
CAÑADA COLLEGE STEM STUDENT SHADOW PROGRAM OVERVIEW
Cañada College is a community college located in Redwood City, CA. We provide a gateway to higher education for local students, many of whom are from low-income, minority backgrounds and are the first person in their family to attend college.
The STEM Center provides wrap-around support to enable our students to transfer to four-year universities as STEM majors and succeed in STEM careers.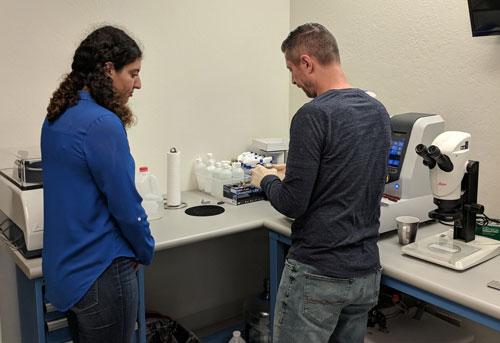 WHAT IS JOB SHADOWING?
As the majority of our students do not have family members who work in the STEM field, job shadowing allows students to experience what working in their chosen field entails. Students are partnered one-on-one with a professional and have a chance to try out "a-day-in-the-life" of a STEM professional.
WHAT IS THE COMMITMENT?
Each participating employee will be asked to host a student on one day or two different students over two days. Company volunteers will be matched with a students who has interest in his/her career. Students will spend a day with this employee to experience their daily routine. Volunteers do not need to prepare anything or alter their daily work schedule. Students are coached to be non-intrusive, allowing volunteers to remain productive while being shadowed. Students will arrive at approximately 9:00 AM and will leave at approximately 3:00 PM (to be determined by company and transportation logistics). We ask volunteers to spend lunchtime with their shadows – this will allow volunteers to share their educational and career experiences, providing valuable mentoring to students.
WHY SHOULD COMPANIES PARTICIPATE?
This is an excellent opportunity to give back to the community and help build the pipeline of potential future STEM professionals. Spending time with these talented and motivated students will be a rewarding experience for employees.