EM-30 Series Scanning Electron Microscopes
Coxem Electron Microscope (SEM
Our SEM Buying Guide can help reveal the most important factors that will guide you in your search for a Tabletop SEM.
Virtual Lab Tour - JH Technologies
The EM-30 Series is a high-resolution Tabletop Scanning Electron Microscope (SEM) with specifications and capabilities not matched by any other SEM in its price range. After evaluating the EM-30 Series your search will be over to find the best compact SEM available. The EM-30 Series can be combined with integrated EDS elemental micro-analysis from any of the major EDS (EDX) suppliers.
The EM-30 Series is offered in 3 different models (see table below for more specific configuration information):
EM-30T – a lower priced and less featured SEM for high vacuum analysis
EM-30N – with integrated NavCam, Low Vac mode and NEW DSP Imaging Electronics
EM-30C – same as the EM-30N but with Cerium Hexaboride filament (CeB6 or CeBix)
The EM-30 series Desktop Scanning Electron Microscope is the only Desktop SEM available with either Tungsten or CeB6 (CeBix) electron sources. No other supplier can guide you as to which solution is best suited for your applications and laboratory situation. Tungsten filament sources have lower operating costs and are simple to exchange by the user in under 10 minutes. Tungsten filaments last around 100 "beam on" hours whereas CeB6 or Cerium Hexaboride sources last around 1500 hours or more depending on how they are used. Hourly operating cost of CeB6 systems is higher than Tungsten based systems, mostly due to more expensive filaments (around $900 compared to $50 for Tungsten) and higher vacuum requirements. Tungsten sources are very simple to replace in under 10 minutes. Whereas, CeB6 sources are typically exchanged by a factory-trained service technician due to the higher vacuum requirements imposing a more careful approach to sealing surface cleanliness. Our technicians can train operators willing to exchange their own CeB6 electron sources if desired.
With the ability to use multiple final objective apertures, the EM-30 series of SEM are able to acquire good images even at low kV settings. The EM-30N is even able to acquire high vacuum SE images of un-coated non-conductive polymers at beam energies of 1 to 3 kV – not possible with any other Desktop SEM on the market. See examples of these type images at this Blog article.
Advanced options available:
EDS Elemental Analysis – STEM Detector – Cooling Stage – Anti-Vibration table
Electron Microscopes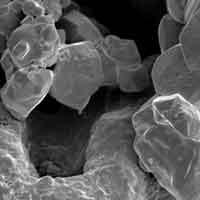 We are pleased to announce our new partnership with "Element pi" and "COXEM" to represent COXEM SEM's and accessories in the US and Canada. This is an exciting new relationship created to help sustain the growth of COXEM products in North America.
The COXEM product line is the most cost-effective, feature-rich compact SEM on the market today. The EM-30 SEM can be configured with EDS and EBSD making it the only compact SEM available with both capabilities simultaneously.
Solder Joint Image Using Coxem EM 30N
EDS (Energy Dispersive Spectroscopy) map showing the elements present in the solder area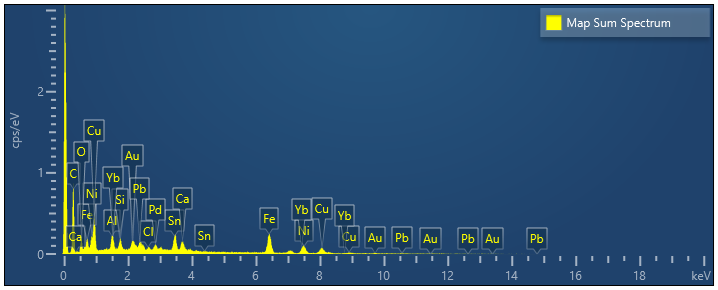 Learn More About COXEM
Do you have a new application or problem you are trying to address? Do you need assistance for maintenance or support? Please do not hesitate to contact us.