Tabletop Electron Microscopes (SEM)
Tabletop (SEM) with advanced capabilities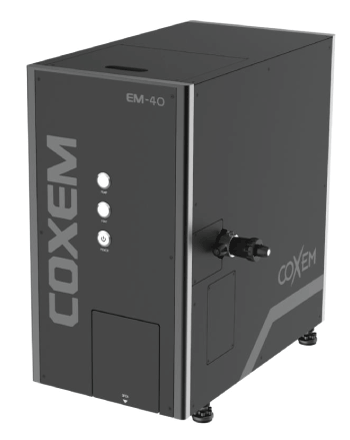 A New Game-Changing Tabletop Electron Microsope—Complete System Price Under $66K
Special Pricing Valid Through October 31, 2023
The EM-40 is the newest addition to the Coxem family of Tabletop Scanning Electron Microscopes (SEMs). Building on the success of the EM-30 line, the EM-40 sets new standards for compact, benchtop and desktop SEMs by offering you advanced features typically found only in larger, more expensive models.
Compact Desktop SEM Features—Coxem EM-40
5th Generation Signal Processing—High-quality imaging at frame rates up to 13 fps, and four imaging modes to suit various applications.
Versatile Imaging Capabilities—50 to 150,000x magnification, large depth of field, and selectable accelerating voltages.
Image Under Vacuum Conditions—The EM-40 is suitable for diverse applications, including materials science, energy research, life sciences, and biological imaging.
Efficient Stage and Pump Systems—The 3-axis motorized stage accommodates samples up to 55mm in diameter and 37mm in height, the rotary and turbo molecular pumps enable fast transition from loading to imaging in under 3 minutes.
NanoStation 5.0 Software—Features automated functions for simplified operation and precise image analysis.
Multi-Detector Options—Allows individual or composite imaging for comprehensive chemistry and microstructure understanding.
Enhanced Analysis Options—Optional STEM detector and CoolStage plus a wide selection of EDS and EBSD capabilities.
Multilingual Interface—Ready for a global audience.
EM-40 Tabletop SEM on Sale Now
It's a game-changer!
Request a demo of the new EM-40 Tabletop SEM to explore its exceptional performance and capabilities and compact benchtop/desktop design.
PLUS qualify for complete SEM system price under $66,000.
Tabletop SEM (Scanning Electron Microscopes)
EM-30T
EM-30N
EM-30C
High Resolution Tabletop SEM with Tungsten electron source and standard motorized 3-Axis XYT stage.
The EM-30 series compact SEM expanded to include and integrated EDS Micro-Analysis system from Bruker or Oxford Instruments.
Tabletop / Desktop SEM Accessories
STEM Detector
STEM Module with dedicated imaging detector and TEM grid holder with 4 grids and EDS compatability
Cold Stage
Cold Stage sample platform for EM-30 improves imaging of many polymer and biological samples, -25° C to 50° C temperature range.
Vibration Isolation Platform
Vibration Isolation platforms assist high magnification imaging by suppressing ambient vibrations. Multiple models available.
Tabletop / Desktop SEM Options for EDS Micro-Analysis
Bruker EDS for Tabletop SEM
XFlash® 630 EDS for Tabletop SEM with 30mm² and Espirit compact software.
Oxford EDS for Tabletop SEM
AZtechOne SDD EDS for tabletop SEM with 25mm² detector and Aztec software.
EDAX EDS for Tabletop SEM
Element SDD EDS for Tabletop SEM with 25mm² detector and APEX™ Software.
SEM Sample Preparation Tools
Sputter Coater
The SPT-20 Sputter Coater is a compact ion coating system ideal to support tabletop SEM.
Cross Section Polisher
NEW CP-8000+ Cross Section Polisher utilizing an Argon Ion Mill prepares samples for critical cross section analysis.
Leica TIC 3X
Leica EM TIC 3X allows the production of cross-sections and planed surfaces for Scanning Electron Microscopy (SEM)
EM-30 Series Tabletop SEM Options for EDS Micro-Analysis
Software platform for simple or advanced Elemental Micro-Analysis with a large 30mm² detector size.
Adding Bruker EDS or EBSD to your SEM turns it into a powerful analytical tool allowing a multitude of capabilities using advanced microanalysis features for elemental analysis.
Software is an idealized program developed for first-time users with analysis functions for Point and Area Qualitative or Quantitative Elemental Analysis, Mapping, Line Scan, and built-in Reporting. APEX™ is designed with a "project" methodology.
Tabletop / Desktop SEM Software
Oxford AZTec Grain Analysis
Tabletop scanning electron microscope (SEM) grain analysis software.
Bruker Grain Analysis Software
Detect, measure and analyze any form of feature, and to provide its chemical classification using the high throughput capability of the XFlash® detectors.
AI Imaging Analysis Software
Automate your analysis using artificial intelligence for better more reliable results
Tabletop Electron Microscope Video
In this video we go over the features of the Coxem desktop SEM, and compare imaging to a high-powered materials microscope. You'll like what you see!
What are the Advantages of Tabletop SEM for Microscopic Analysis?
Tabletop SEM or compact scanning electron microscopes have become increasingly popular in recent years due to their ability to provide high-quality imaging and elemental analysis at a lower cost compared to traditional full-sized SEM systems. Let's talk the advantages of using a tabletop SEM and why it's a valuable investment for your research or quality assurance laboratory.
Tabletop SEMs are easy to use and require less infrastructure compared to full-sized systems. Companies and research groups that previously avoided SEMs due to their high cost and specialized personnel requirements can now benefit from the compact and user-friendly design of tabletop SEMs. They offer imaging, morphological, and elemental analysis capabilities that are highly useful in a variety of fields, from materials science to biology.
Not only are tabletop SEMs cost-effective, but they are also ideal for STEM outreach programs. Even middle school students with supervision can now operate electron microscopes in science programs across the country, thanks to the admirable efforts of electron microscope suppliers. It's a great educational tool that can inspire future scientists and engineers.
When it comes to buying a scanning electron microscope (SEM), buyers need to consider the capabilities of the microscope and the overall cost of the system. Beyond the initial acquisition cost, there may also be significant on-going costs for maintenance, service, facilities, and personnel. However, tabletop SEMs have a lower cost of ownership compared to full-sized systems, making them an attractive option for many laboratories.
TABLETOP ELECTRON MICROSCOPE PRICING

TYPE
DETECTORS
STAGE
MAGNIFICATION
PRICE RANGE
Entry Level Tabletop
BSE only
XY Only
under 60,000X
$50K to $60K
Intermediate Tabletop
BSE
XY Only
100,000X
$60K to $70K
High End Tabletop
BSE and SE
XYT or more
150,000X
$70K to $80K
Tabletop with EDS
BSE, SE and EDS
XYT or more
150,000X
$100K to $125K
Entry Level Floor Model
BSE and SE
XYZRT
300,000X
$95K to $120K
Entry Floor Model + EDS
BSE, SE and EDS
XYZRT
300,000X
$130K to $160K
At JH Technologies, we offer a range of tabletop SEMs that cater to your specific requirements. Our EM-30 Series incorporates a Tungsten electron source, which provides similar results to CeB6 source, but with a much lower cost of ownership, making it one of the most affordable tabletop SEMs in the industry. In addition, we also offer comprehensive solutions for EDS and EBSD, typically only available in full-sized systems, but now offered in the compact EM-30 and floor standing CX-200 Series .
Tabletop SEMs are a cost-effective solution that provides high-quality imaging and analytical capabilities. They are easy to use, require less infrastructure, and are ideal for a range of fields, from research to education. Contact JH Technologies using the form below to learn more about our tabletop SEMs, including tabletop SEM pricing and how they can benefit your research or analysis needs.
Contact Us and Learn More About Tabletop SEM with EDS